Captivated! Totally captivated, that's how I would best describe my reaction the first time I witnessed the extreme beauty of hot new transsexual superstar Nicolly Navarro. For those who are not aware of who the hottest and sexiest new shemale porn starlet to arrive on the scene is, let me be the first to inform you Miss Nicolly is a true gem and heading straight to the top of the transexual glamour world. Nicolly is so new to the scene, she has only a handful of credits to report, however each day we are seeing new material from her and finding out just what a kinky and horny t-girl she really is. To some she may seem like the perfect t-girl, this flaxen haired beauty is so naturally sexy. From her alluring and inviting eyes, right down to her perfectly groomed pedicure. Nicolly's svelte and sexy body is so smooth and tight, her breasts are full and pert, and when you see what emerges from under her skirt, you'll see that the likelihood of her actually being the perfect t-girl holds much merit.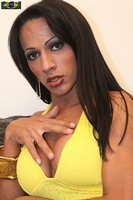 Nicolly looks absolutely ravishing in her most recent solo set at Brazilian Transsexuals. Adorned in a flowing yellow silk dress and casual brown pumps, it is clear that Nicolly is perfectly natural and gifted in front of the camera. As with most glamour girls who love being in front of the lens, Nicolly takes to modeling as naturally as any model I've ever seen, and indeed the camera loves her and all of her natural sexy. Veteran photographer Louie Damazao has photographed literally thousands of gorgeous Brazilian t-girls, and he has once again captured the true erotic nature of one of the most beautiful new girls to enter the adult marketplace. Of particular interest of course is Nicolly's sexy and huge endowment, when Louie offers her the now famous Grooby Penis Meter to measure the length of her horny appendage, you won't be surprised at the impressive number it shows. You'll have to see this to believe it, and as is usually the case with hugely hung t-girls, her cock is even bigger in person than it is in photographs.

As can easily be seen, Nicolly is a naturally talented model, as passable as she is it is conceivable that she could compete for the cover of any major glamour magazine in the world. The fact that she has chosen to pose and act in x-rated photo's and video's, is largely due the fact that this is one super horny t-girl we're talking about. Nicolly's constant craving for sex was largely the impetus towards making a career in tranny porn her chosen professional. Upon entering the adult entertainment business, Nicolly did not have to pay her dues as some upstart tranny models have to, she instantly started working with the industries top producers and has already appeared alongside many of today's top transsexual actress including legend Carla Novaes, Kawanna di Prada, Adrianna Rodriguez, Aline Ganzarolli and countless others.