Self Made Glamour Girl
It seems like Tara Emory has always been around, she has run her very own website now forever, and has been a constant attraction on countless of other top shemale sites throughout the years. Always a fan favorite, Miss Tara shows no sign of slowing down as she has just recently come out with some of the hottest scenes we have ever seen her in. Tara recently took a cross country trip that was filled with erotic sexual experiences from start to finish, ending in sunny California and returning back to the East coast with a good amount of work in the can.

Her first appearance came in a super sexy solo shoot for the popular website Shemale-Club.Com, Tara looks elegant in her solo pics and video set as she becomes quite friendly with one of her many butt-plugs. In a hot lavender corset and matching gloves and stockings, Tara wears her signature cock-rings and takes to stroking until she can't hold back. Tara has never disappointed when it comes to delivery the "money shot", and that seems to be another area where she hasn't slowed down. It a very exciting layout and for fans of Tara Emory, seeing her first shoot for Shemale-Club will be a very welcome addition to her ever growing list of movies.


See Tara's hot set at Shemale-Club
---
Tara Emory – Mia Isabella
One of the adventures that Tara found herself in during her trip to the West coast, was a hot one on one scenes with hugely hung glamour girl Mia Isabella. Mia is another solo site owner and the two girls did a scene for each of there respective sites, the scene on Mia's site is a very horny lesbian scene which features not only hard dick, but silky lace. Mia and Tara each get a chance to have their way with each other, and each girl loves to suck and fuck as much as the other. The quality of the pics and vids in this scene really enhances the erotic nature of these two transsexuals superstars. Each decked ouit in full lingerie with jewelry and pumps, these are the two classiest looking shemale sluts you're likely to see, giving this scene a very erotic feel. I would have to go on record in saying I think the lovely pairing of Miss Tara and Miss Mia is destined to be a classic for a long time to come.

Click her to see Tara and porn starlet Mia Isabella
---
Tara-TS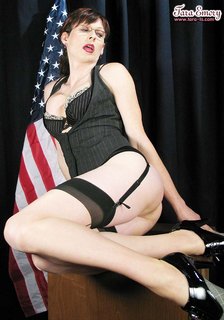 Tara Emory is another shemale performer who also runs all of herself business from her own desk, much like Vicki Richter and Wendy Williams, Tara is a self made girl. One of the most attractive aspects to Tara's site, Tara-TS.com, is that she also makes all of her own outfits and costumes, and also shoots in home made sets. Couple her unique dress and style, with someone who is naturally sexual and exhibitionism, Tara has a fun site and serves up plenty for her members to fantasize about. Tara also runs her website full time and you are always guaranteed a hot update at regular intervals, she never seems to run out a special themes to show and always keeps her themes current. And regardless of which theme Tara chooses to model in, or what erotic costume she chooses to wear, one thing is constant in her hot shoots and that is her big fully erect cock. Tara always tends to wear a cock-ring during her shoots, and it has become expected that whenever you see Tara showing her cock, which is always, you'll always see her big engorged cock wrapped tightly in her cock-ring. Another sexy aspect of tara-ts.com, and this has been the case for as long as this sexy site has been on line, is Tara's ability to shoot hot thick creamy loads in all of her scenes.
CLICK HERE TO JOIN TARA-TS